As previously mentioned, GIS is a computer-based tool enabling the viewing, storage and querying of map-based information.

There are many different types of GIS; some are more suited to displaying and storing map data, whilst others have powerful querying capabilities as well. Below we will explore some different ways available for working with map-based information. The three main forms of GIS platforms are Web-GIS, Desktop GIS and Field GIS.
1. Web GIS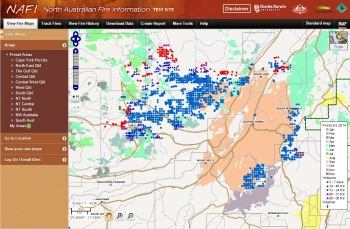 Web-GIS are online map-based webpages. They provide a wide range of pre-processed map information. The majority of these sites are free and government funded. There are anumber of web-services providing satellite derived fire information for Australia. They include:
- North Australia Fire Information: The site you are on now. It is the most commonly used across northern Australia, providing both hotspot and burnt area maps. It has been developed over the last decade to suit the practical fire management needs of the north Australian Savannas.
- FireWatch This service is maintained by the Western Australian government and provides a range of fire information including hotspot data (similar to NAFI) and burnt areas maps from AVHRR satellite sensor (1km Resolution). Fire watch provides a wealth of fire data for all of Australia and works closely with fire agencies and their emergency response to fires. myfirewatch.landgate.wa.gov.au
- Sentinel This service is maintained by GeoScience Australia and provides hotspot data and some fire scar data for all of Australia and some of Indonesia. sentinel.ga.gov.au
In addition, there are a number of services providing international active fire information, including:
- NASA Active Fire Data This service is maintained by NASA and provides global hotpot data sourced from the same satellites used by NAFI,Firewatch and Sentinel. earthdata.nasa.gov/earth-observation-data/near-real-time/firms/active-fire-data
- Google Earth is also a form of Web-GIS and provides background imagery and the ability to display additional user data together with fire data. www.google.com/earth/
- Bureau of Meteorology (BOM Another site providing map information for fire management planning is the Bureau of Meteorology. BOM provides important fire weather information including wind speed and direction for some areas and forecasts that can help with response activities www.bom.gov.au
Whilst very useful for fire management, the useability of these sites is of course related to quality of your internet connection.
2. Desktop GIS
Desktop GIS describes software that sits on your own computer without an internet connection. Some of these software types cost money (Commercial GIS), whilst many other very good applications are free.

Commercial GIS software includes those programs requiring a license and often payment. These software generally require some GIS training but allow a much greater degree of data analysis and mapping. The most common Desktop GIS used is ArcGIS produced by a company called ESRI. Another common application used is MapInfo.

In addition to this form of GIS software described, there are packages designed specifically for working with satellite imagery such as ERDAS Imagine or ENVI. These are known as image analysis software and can be used for mapping fires from satellite imagery.

Free GIS software has become more common and well developed in the last few years. Importantly, free software does not require a license, and can be distributed to others, making it much easier for anyone to access mapping and analysis capabilities outside those available through Web-GIS services.

Some commonly used examples of free GIS are: QGIS, SAGA GIS, and BaseCamp™
- QGIS is quite advanced Open Source GIS software now commonly used throughout the world. In many cases it can replace the need for commercial software. QGIS focuses on the use of vector data for analysis and making maps. www.qgis.org/en/
- SAGA-GIS focuses on the analysis of raster data, and so is commonly used for working with satellite imagery. With SAGA-GIS you can, for example, visualise burnt area data from Landsat and MODIS imagery. You can also create your own fire maps which can be very useful to develop detailed fire information for your region beyond that which is provided by fire web services. www.saga-gis.org/en/
- BaseCamp™ is an excellent tool for working with GPS data. It allows you to store and manage GPS data you have collected in the field and create new navigation tracks to upload to the GPS. We will look further at Basecamp in section. www.garmin.com/en-AU/shop/downloads/basecamp
- Other software useful for managing GPS data include Fugawi™ and OziExplorer.
3. Field GIS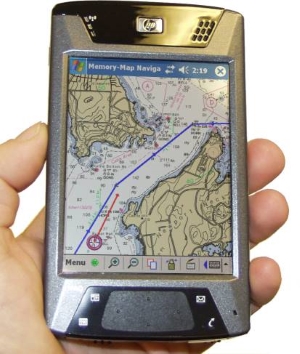 Field GIS software includes tools for helping you collect geo-located information in the field. Commonly used field tools for fire management include CyberTracker™, PDF Maps and ArcPad. These tools generally run on a mobile computer, smart phone or tablet with GPS functionality.
- PDF Maps is free software for Android and Apple phones that allows you to import maps or satellite imagery for onscreen navigation. You can also collect and attribute data in the field using this software. PDF Maps is very robust, and allows easy sharing of data and viewing in Google Earth or on a Desktop GIS.
- CyberTracker is free software that runs on GPS devices with Windows Mobile software, and Android phones. CyberTracker's main function is to capture field information, and has been use by North Australian ranger groups for many years. Sophisticated data collection forms can be created on a desktop computer and uploaded to a GPS device for use in the field.
- ArcPad is ESRI software that works well with ArcGIS. It excels at both form data collection and field map viewing for navigation. However it is more difficult to use than the others mentioned above, and is not free, requiring a valid software license to operate it.